Cynthia Snapp Artist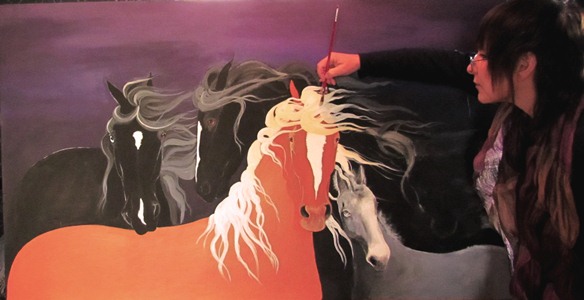 Cynthia has been a resident of Sedona and Verde Valley for over 25 years. In addition to her role as Javelina Leap's winemaker, she is also an accomplished multi media artist.
Cynthia's art is inspired by her lifelong love of nature and has concentrated mainly on wildlife realism, animal portraits and sculpting. Although successful with her sales and commissions, she felt limited working within the confines of one style, media or surface. Cynthia soon began to experiment in order to express her ideas in a more colorful and personally satisfying way. She loves to paint on non-conventional surfaces such as wood and plaster. Some of her other creative skills include retail window and interior displays, trade show props and construction, graphic arts , photography, interior remodel design, faux jewelry design and mural painting. The Javelina Leap Label was designed by Cynthia featuring her pencil sketch of a Javelina.

" Working with Robert Shields was a real catalyst for me. Because of this experience, I see the world of art and creativity in inspiring new ways. Life is a canvas and each day is like a new surface on which to be creative."
Cynthia Snapp